SECTORS WE WORK IN

Energy

Industry

Construction

Transport

Mining and mineral production

Metal production

Fugitive emissions

Waste management

Land use
COMMITTED TO ACHIEVING
THE SDGs
Cercarbono supports results achieved by climate change mitigation projects focused on removing greenhouse gases (GHG) or reducing GHG emissions, and which contribute to the achievement of the Sustainable Development Goals, in line with the 2030 Agenda and the Paris Agreement.
Improved living conditions, increased access to basic services.
Improved household income, efficiency in the use of resources, increased sustainable production practices.
Reduction of biomass burning and crop residues.
Training for the development of professional skills.
Reduction of gender gaps.
Increased access to water, improved water management practices, and efficient consumption.
Savings in energy consumption, increased production of clean energy.
Generation of decent and environmentally positive employment.
Improved infrastructure for communities.
Improved waste management improved clean transport systems, improved access to low-emission building materials.
Central goal of climate change mitigation projects.
Contribution to the conservation and restoration of forests and their biodiversity, and restoration of degraded areas.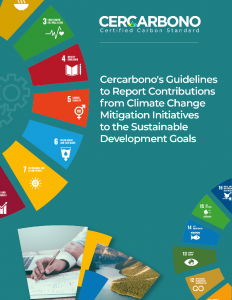 SDG TOOL
Get to know the Tool to Report Contributions from Climate Change Mitigation Initiatives to the Sustainable Development Goals.
Rate Limited Exceeded. Please go to the Feed Them Social Plugin then the Twitter Options page for Feed Them Social and follow the instructions under the header Twitter API Token.No Tweets available. Login as Admin to see more details.
WE ARE MEMBERS OF: